SmartGeometry 2011 Report
by bentleyuser - 12 May 2011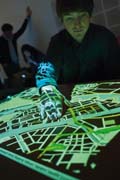 Now In its eighth year, SmartGeometry 2011, took place over six days this Spring, hosted in Copenhagen by the Royal Academy of Fine Arts School of Architecture's Centre for IT and Architecture (CITA). Marc Thomas reported for AEC Magazine.

Gadgetry was to the fore this year. Shown here a Microsoft Kinect sensor mounted overhead alongside a projector detects hand gestures allowing the virtual model to be moved or modified interactively. The way in which software agents within the virtual environment move can also be altered by gesture.